TOLSEN 3 Layer Heavy Duty Steel Tool Box (404X200X195mm) 80211
Product Description:
CERTIFIED ORIGINAL TOLSEN BRAND
Model:80211
Dimention:404X200X195mm
Steel thickness:0.6~0.8mm
Net weight: 3.3kgs/7.3lbs
3 layers
Packing: carton
Housing material: metal Length: 40.4 centimeters
Width: 20 cm
Height: 19.5 centimeters.
Specification:
Classic design metal tool box.
Dimensions (closed): 400 x 200 x 195 mm.
Made of high quality metal sheet and very resistant.
Opening to the sides of both sides of the box, leaving the visa 4 side compartments and a large central compartment.
Lids that close the upper compartments.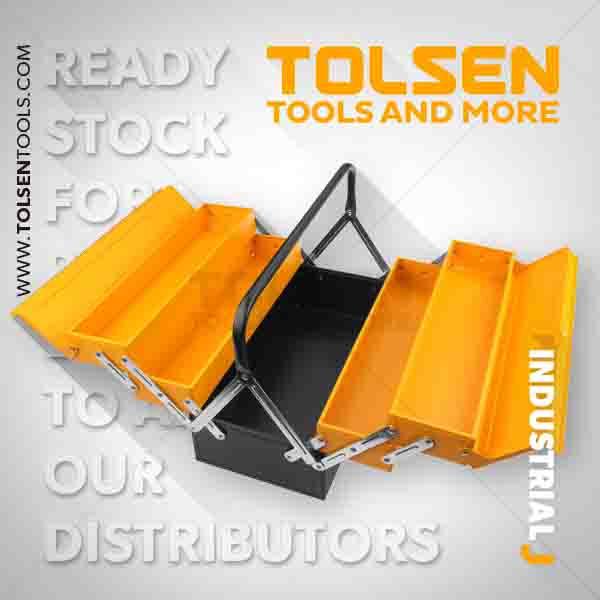 WHY CHOOSE TOLSEN?
TOLSEN is a well-known brand in Europe. TOLSEN's products are widely used in countries all over the world including North America, Latin America, Middle East ..., with factory in China, Therefore, the price of the product is more acceptable than similar products but produced in other countries, absolute guarantee, full standards and quality for the European market.
TOLSEN supplies products such as: mechanical tools, PPE tools, specialized tools for the electrical industry, measuring tools, specialized bags ... Tolsen products are undergoing the process. Thorough research before putting into production, meet all standards in terms of materials, design, usability, price. Next, the team of experts will conduct strict inspection of output quality on factors such as hardness, insulation materials, product design, cutting ability ... before the market. This is especially the case for high rust resistance testing. Cutting-edge production technology to provide Tolsen's customers with the best hand tools, and to improve the quality of their work. TOLSEN tools are increasingly offering a wider variety of products.