TOLSEN Fully Automatic Welding Mask (LIthium) CE Approved 45087
Product Description:
CERTIFIED ORIGINAL TOLSEN BRAND
Model:45087
CE approved
Light state: DIN.4
Dark state: DIN.9-13
Switching time(s): 1/25000
Delay time: 0.2-0.8s continue adjustable
Power supply: Solar cells & lithium batteries
Power on/off: Fully automatic
Shade knob: Out
Sensitivity: Adjustable
Suitable for ARC, TIG, MIG, Spot, Micro, Wire, AC,DC, and Plasma Welders and Plasma Cutters
Packing: color box
Ergonomic design
Tolsen 45087 automatic welding mask designed with the size fits well with the user.
The fabrication of 2 layers of glass while the outer layer can be turned on very handy. The strap is designed to have elasticity and additional knots that help hugging the head, firmly throughout the process.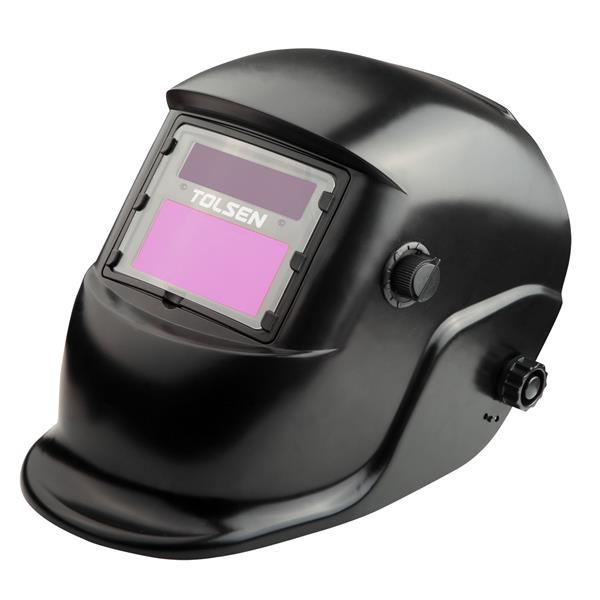 Good protection for the face.
Has a face protection effect especially for those who do welding work or work with direct sunlight that exceeds the permitted level.
Good material
The mask is made of high quality, heat-resistant, non-deformable material in all environments.At the same time, it does not contain toxic and safe substances for users' health.
Brand information
TOLSEN is a famous brand in Europe, TOLSEN products are widely used in countries around the world including North America, Latin America, Middle East ..., with factories in China, so the cost of products is more acceptable than similar products but produced in other countries, ensuring absolute, full standards and quality for the European market.
TOLSEN tools are specialized in supplying items such as: mechanical tools, PPE supplies, specialized tools for electrical industry, measuring instruments, specialized bags ... Tolsen products all go through the process. Research thoroughly before putting into production, fully meet the standards in terms of materials, design, applicability, price.Next, the team of experts will conduct strict quality control of output products on factors such as hardness, insulation materials, product designs, cutting ability ... before putting into market. school, especially the testing process of high rust resistance.Modern production technology and continuous improvement to bring Tolsen customers with standard hand tools, improve the quality of work optimally.TOLSEN tools increasingly provide more diverse and richer products.